See Tidy Truck About Your Next Wood Liner Today!
Whether it be our standard wood liner that will protect your box from everyday use, or a custom wood liner with toolboxes to keep the back of your truck organized, our team offers quality results to match each situation.
We offer the following options for our wood liner product line:
---
Standard Wood Box Liner
Just the wooden bed liner. No frills, just quality.
---
Standard Wood Liner with a Dual-Lid Wood Tool Box
This tool box offers ample room inside for all your tools.
Plus, it comes with a sliding tray for those bits and pieces!
---
Standard Wood Liner With Removable 3-Drawer Setup
This three-drawer setup is built to fit between your wheel wells and can be built to suit your needs. The 3-Drawer style will give you lots of storage room and also room on top for other items you need to carry your quad, and if you need all of your box back, that is no problem, as it is removable.
---
Liner With Built In-Drawers
Here is a liner constructed with bottom drawers that are built right into our wooden liner. This is usually built to the height of the wheel well to still give you some box height on top of the drawers. Unlike the above-drawer setup, this is not removable unless you remove the boxliner also.
These can be built with an option of three drawers and have small compartments on the sides.
---
Liner With Side Tool Boxes
Here is a wood liner that has tool boxes built down the sides. In the picture shown here, the tool boxes are built as part of the liner. As an option, the side tool boxes can be built separate of the liner, though it is recommended that they be built as one piece for added strength. These toolboxes also come with pull-out trays.
*The tool boxes can be built to accommodate fire extinguishers.
Note: Tie Downs Sold Separately.
---
Liner With Side Boxes and Drawers
Here is a different version from the above liner. This liner has custom-built side tool boxes with drawers at the end for easy access from the tailgate. Though this gives you optional storage space, it does limit your in-box space. The bottom storage of this specific liner is only compartments, though drawers could be added.
Side and Bottom Drawers — The Complete Storage Package.
This liner comes with both built-in side toolboxes, and also a drawer setup. You have the option of making the drawer setup removable or  leaving it built in.
---
Instrumentation Boxes
This setup is quite popular with instrumentation businesses. It is built to go under a canopy that has side access doors. The cab end of the side boxes have front compartments that can be accessed through the side windows of the canopy. The middle drawer setup also contains a table that can be pulled out and set up for working on.
---
Instrumentation Boxes Under Box Cover
These boxes are quite similar to above tool boxes, but are built to go under a box cover instead. The side boxes also come with front compartments which can be accessed with the cover open. As an option, the driver's side top drawer can go all the way to the front and eliminate the front compartment. The middle drawers do not come with a table.
---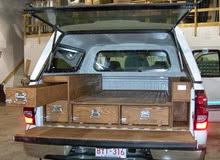 Bottom and Side Drawers with compartment
This tool box setup is also designed to go underneath a canopy. It has two drawers on the driver's side with the top one being full-length. The passenger side has open storage areas along the top and also a cubbyhole on the tailgate end. The drawer set in the middle can contain either two or three drawers, which also run the full length.
---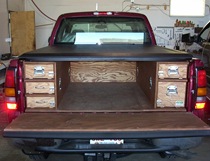 Liner With Full Side Drawers
This tool box setup is built to go under an access cover. It has a standard wood liner and two side drawers added on. The top drawers go all the way to the front and the bottom drawer(s) go to the back of the wheel well.
---
Liner With Full Side Drawers and Bottom Drawers
This set up is the same as above with an additional three-drawer box.
---
Ready to get started? Contact us now for a free estimate, and be sure to schedule an appointment with our truck store in Lloydminster or Medicine Hat today!